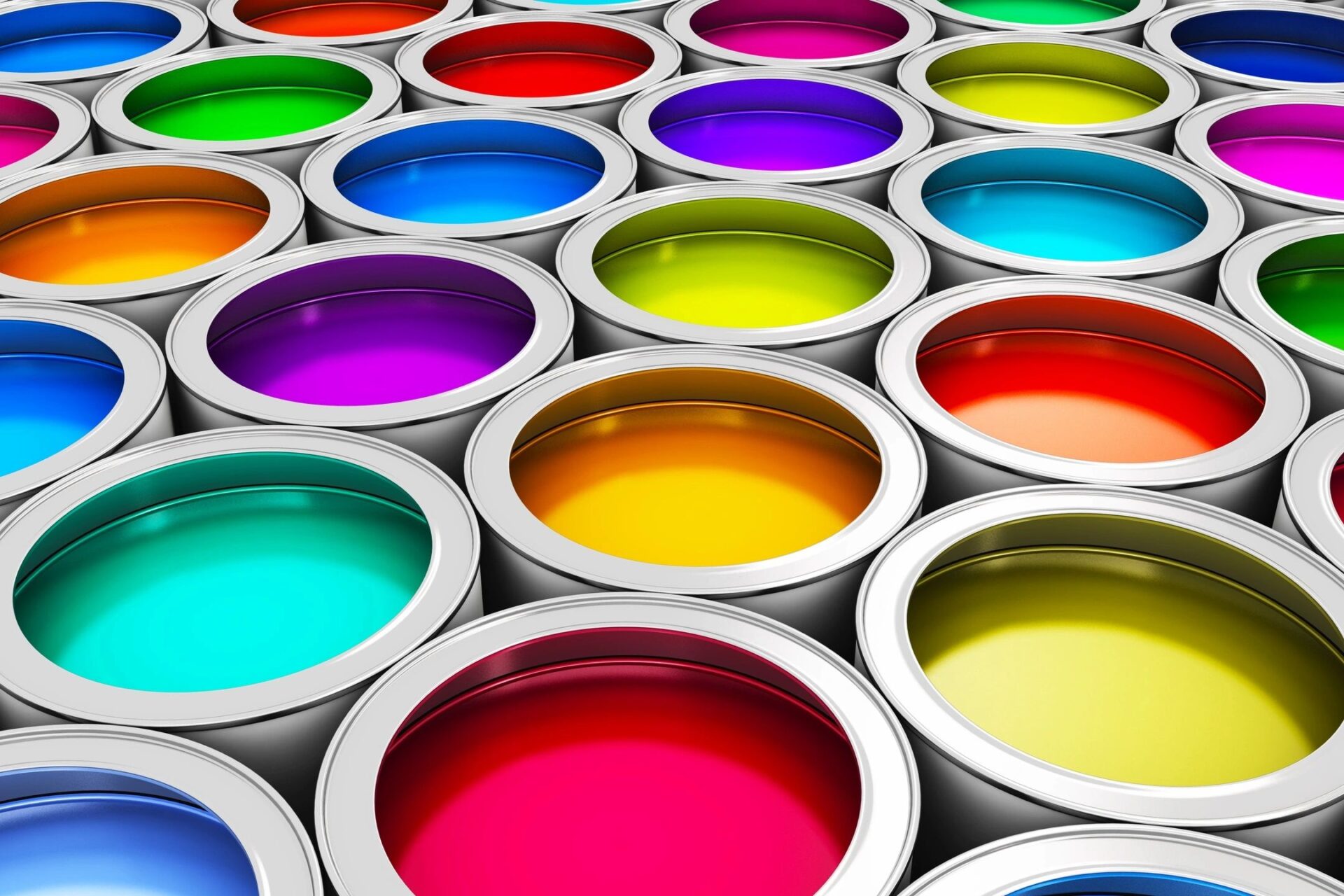 Decorate Your Floor
the Way You Want
The following paints have been suggested for our Champion, Champion II, and Medalist floors (and/or Pro floors where it is specifically stated that the paint works on the Pro floor and where the floor has a PaintPlus treatment).
Advice for Painting
Your Vinyl Colorguardfloor
The latest information we have on this hot topic.
We are not a paint company or paint experts; we are a tarp/floor company. However, we are trying to provide the information through our paint information center about painting tarps because that is what our customers want. Colorguard conditions are very harsh for paint adherence. We want to be able to fold the tarp many times, walk, dance, and drop equipment on a flexible surface, and this is a tough task.
Not all paints will adhere to a bendable surface such as vinyl or polyethylene. Colorguard Floors™ will not be liable for paint adherence problems. Without exception, you will have to test your paint for adherence.
Painting Your Vinyl Colorguard Floor:
Plan & Prep!
Success starts with good planning and preparation! It will save you a lot of time, money, and frustration!
There are a few key things to think about:
Where will I paint the floor? Suggestions: Gym, Parking lot.

How long will I need this space for, and is it available for that time period?
Don't start this task without knowing these answers! Determine how much time it will take to prep, apply each coat, detail work, and drying time. Ideally, summer would be the best time to paint. You would have the option of working inside or out, and school facilities are normally more available, therefore allowing you to leave your floor undisturbed for a few days.
PREP! PREP! PREP!
Preparation is the most important step in the entire process of painting your floor! If the preparation is not done, the paint may not stick, and you will be much more likely to experience chipping and flaking!
These steps should be followed prior to painting any floor, old or new.
Remember to let your floor dry completely prior to using or folding. We recommend a minimum of 48 hours.
Good Luck with your painting experience! These are only suggestions – Results may vary depending on many variables, i., e. quality of the vinyl and paint, the porosity of the vinyl floor, and preparation, etc.
Our floors do not "require" a primer to paint them. However, the paint you buy may require the use of a bonding agent or sealer. Not all paints do. Please follow the paint manufacturer's instructions carefully.
Things to Be Aware of
With Spray Paint
Cost: If you are just doing a design or detail work, $5-$6 a can isn't bad. However, it takes many cans to cover 3500 square feet (50x70); a very rough estimate would be about 35-40 cans, or about $200-240.

Fumes: We recommend that you paint in a very large building if possible, outdoors is the 2nd best choice because of wind. You will want to invest in masks for everyone involved. NO smoking anywhere near the paint site!!!

Prep: Don't skip cleaning the floor! Moisture (or wetness), dirt, and/or debris on the tarp will show up when you paint the floor. It's worth the time you will take to properly prep the floor.

Mess: Application is with spray cans; be prepared for overspray and fumes.
Latex - Latex paint does not provide desirable results on a Pro floor. We have been told that latex (a bit diluted - 1 part water 2 parts paint) works wonderfully on vinyl floors. It is relatively inexpensive (some can be purchased for as little as $13.00 per gallon!), has a large color selection, and is readily available. Behr Paints, which are available at Home Depot at $13.00 per gallon!), has a large color selection and is readily available. Behr Paints, which are available at Home Depot, have been recommended to us. They cost around $20.00 a gallon and are extremely durable, dry relatively fast, and provide great coverage.
If you are unable to find Behr Paints, our suggestions would be to go to their website to obtain a copy of their specifications and see if you can best match them with another brand.
Latex paints can be applied by brush, paint sprayer, or roller. Interior latex paints, most generally, can be recoated within 4 hours, so you should be able to recoat the same day! It is important to apply several THIN coats. If the paint is applied too thick, they are more likely to chip and peel. Don't forget to thin your paint as directed above. Some paints cannot be thinned, so make sure and check your label.
Products for the Medalist,
Champion, and Champion II
Nazdar - +1 (800) 767-9942 This company is recommended by many people as an excellent solution for re-coloring vinyl. Excellent coverage and Pantone color matching make this a highly desirable product. You can get a Pantone color specifier and mix it yourself, or you can pay them MUCHO money, and they will mix it for you. Standard color pricing is $80-120/gal, depending on color. Thinner is required ($30) - you thin it 50% a gallon of thinner to a gallon of ink. Coverage with thinner is up to 1500 SF/gallon (50x70= 3500 sf). Don't get gloss ink. Get flat; the flat inks are about $20 cheaper, and the gloss sticks to itself. The fumes are quite strong, so this product should be used in a well-ventilated area. It can be applied with a roller. Our contact there is Dan Miller. We are sending him Medalist samples for print testing.
SEM - SEM Vinyl Dye Color Coat - "SEM dye (Vinyl Dye) is a spray coating for restoring or changing the color of automotive vinyl tops, vinyl upholstery, flexible and rigid plastics, leather, auto carpet, and velour. SEM dye is designed for spray only and is available in [13-oz] aerosol cans." We have sent samples to this company for testing, and when they get back to us, we will post their recommendations here.
Dupli-Color - "Renew the color and finish of vinyl... and more. Duplicolor's exclusive opaque colors have been matched to meet OEM standards and require no primer. The high-performance formula penetrates completely into clean surfaces and dries flexible to resist chipping, cracking, and peeling." Available at Auto Zone.
Sherwin-Williams Automotive There is a store locator on the website. Ask for "Ultra-interior" vinyl paint. This paint requires a primer (adhesion promoter), UPO 7227. They sell their colors in sizes from a half-pint to a gallon. The application requires a paint gun. They may also have some products for painting polyethylene (The Pro).
About PaintPlus: PaintPlus is a process that enhances paint adhesion to the polyethylene surface. We have not found any paints that will adhere to polyethylene without this treatment and do not recommend painting the Pro without it. Paint adherence is not guaranteed, nor is paint damage covered under warranty.